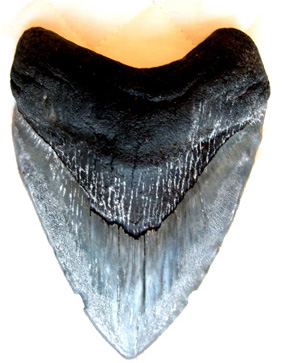 Bring the whole family and join us for a fun day of treasure hunting in Venice, Florida. Venice has long been recognized as the "Shark Tooth Capital of the World". These teeth make great collectables and some of the large ones can sell for over a thousand dollars!

Some of the treasures you will find are prehistoric teeth from lemon sharks, great white sharks, tiger sharks, bull sharks including the massive Megalodon shark which can reach sizes over 7 inches. Some other prehistoric fossils are often found such as ribs of dugongs (ancestors of present day manatees), fossilized inner ear bones of dolphins and whales, teeth from prehistoric horses, alligators, whales and many others.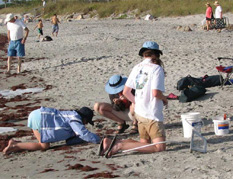 You do not have be a certified driver to have fun on this trip. If you are NON-Diver, bring your mask, fins and snorkel and hunt for treasure (pre-historic shark teeth) on the sandy bottom of the shallows (approximately 15 ft). Scuba divers can hunt in the deeper waters (approximately 15-30 ft). You do not have to have excellent visibility to hunt fossils since you are looking on the bottom in small areas. If you have a small mesh bag bring it so you can safely hold all your treasure until you get back to shore.

Bring your pop-up canopy, folding chairs, raft, floaties or boogie board. We will provide a 10' X 10' shade canopy and a large ice chest filled with bottled water for the group. A 2-wheel dolly will also be available to help carry gear to and from the parking area to the beach.

What a great way to spend time with the family looking for fossils. Custom trips can easily be arranged for your family and/or group. Do not miss this exciting activity when in the area.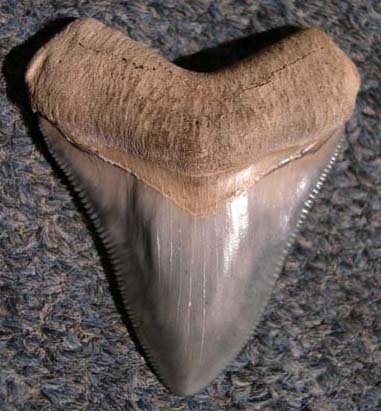 Dive Operator: None. All dives will be shore dives. Our support Dive Shop for this trip will be Megalodon Charters located at 509C Tamiami Trail North, Venice, FL 34285 (941) 483-3483. Store hours are 9:00 AM to 5:00 PM. The minimum group size is 4 and the maximum group size is 12. Space fills up fast so contact us or sign-up online so we can reserve space on the trip.

Location: We have several parks to choose from. We have found the most productive areas to be Venice Municipal Beach, Service Club Park Beach, and Caspersen Beach. All three of the beaches are located a short distance from the support dive shop located in Venice, FL. Venice, Florida is located on the Gulf coast side of Florida approximately 1.0 - 1.5 hours (75 miles) Southwest of Tampa and approximately 2.5 - 3.0 hours (175 miles) Southwest of Orlando. Click here to download printable driving directions to Service Club Park, Venice, FL.

Trip Dates: This dive trip is offered almost every month of the year. See our Travel Page for our next dive trip. If you do not see a Shark Teeth Hunt trip scheduled, please contact us and we will setup a trip for you.

Meals: Lunch will be provided. We will order sub combo meals "build your own" from Publix's Deli located at 535 Tamiami Trail South (941) 484-3346. The sub combo includes a 6" sub sandwich, your choice of meat (Ham, Roast Beef or Turkey Breast), your choice of cheese (Cheddar, Swiss, American or Provolone) with all the toppings, your choice of "big grab" chips and your choice of 20oz drink. We will have order forms available at the beach for everyone to select the sub combo meal they would like. Someone will pickup lunch for everyone and we will dine at the beach.

Dinner will NOT be provided. However, if people would like to relax and visit and reminisce about the activities enjoyed during the day before heading home, we could all meet at Sharky's on the Pier. The restaurant is located just a short drive from our dive site at 1600 Harbor Dr S, Venice, FL (941-488-1456). The restaurant offers outdoor dinning, live bands on the weekends and is beach side. Check out what is on the (menu).

Trip Costs: We will begin shore dives around 9:30 AM and will conclude diving around 4:00 PM. You should arrive about 1/2 hour before dive time and unload your personal gear and complete any release forms. On all dives there will be complimentary bottled water for your convenience.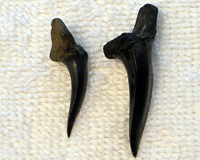 The prices below DO NOT include crew tips, weights or personal dive equipment. Let us know prior to the dive trip and we can assist in arranging equipment rental for you.

$35.00 per person per day
• Lunch - Sub Sandwich Combo Meal
• 10' X 10' Shade Canopy
• Bottled Water
• Ice Chest and Ice

Dive Options (Add) per person per day
• $10.00 - 80 CF Tank (Air), Refills $5.00
• $15.00 - 80 CF Tank (Nitrox up to 36%), Refills $7.50
• $40.00 - BCD & Regulator
• $25.00 - BCD
• $25.00 - Regulator
• $15.00 - Wetsuit
• $7.50 - Weight Belt & Weights

Boat Dive Optional (Add) per person per trip
(includes snacks, soft drinks, weights and water)
• $85.00 - 2 Tank Boat Dive (Air)
• $20.00 - 2 - 80 CF Tanks (Nitrox up to 36%)

The prices below DO NOT include crew tips, tanks or personal dive equipment. If necessary, we can arrange equipment rental for you. However, we need to know what equipment you need to rent at the time of your reservation.


* Approximate Times
Arrive
Depart *
Return *
Morning 2 Tank (Mon-Sun)**
7:30 AM
8:00 AM
12:00 PM
Afternoon 2 Tank (Sat-Sun)
1:00 PM
1:30 PM
4:30 PM

** MORNING DIVES ONLY! Afternoon boat dives available only on WEEKENDS. DEPARTURE TIMES are either 8:00 AM or 1:00 PM. You should arrive at least 1/2 hour before departure time and unload your personal gear and complete release forms. On all boat dives there will be drinking water, soft drinks, snacks, fresh water rinse, and weights for your convenience.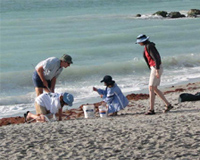 Deposit: A 25% deposit of your total package (snorkel tours, dive trips, rental gear) is required at the time of booking. The remaining trip balance (snorkel tours, dive trips, rental gear) MUST be paid in full 15 days prior to trip date.

Forms Required: Everyone will need to complete the Liability Release for Boat or Excursion form prior to entering the water.

Materials/Equipment Required: You will need to provide the following or make arrangements for:
Certification -

Make sure you bring your certification cards (Nitrox also)

Tanks -

Air or Nitrox

Personal Dive Gear -

Mask, Fins, Booties, Wetsuit, BCD, Computer, & Regulator

Personal Items -

Folding chairs, Towels, Sunscreen, and Sunglasses, Log Book
Cancellation Policy: All cancellation notifications MUST be written* or emailed* prior to departure date of the dive trip.

(* voice messages are not accepted cancellation notices)
2 or 3 Tank Boat Trips -

48 hour cancellation notice required for full refund

Dive Trips w/wo Lodging -

72 hour cancellation notice required for full refund

International Trips -

70 day cancellation notice required for full refund minus the un-refundable deposit. Less than 70 day cancellation notice will be 50% refund minus the un-refundable deposit unless we fill the spot with another person.
Space is limited and based upon availability. Prices may change without notice.